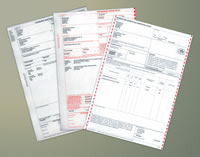 Click to view larger
ChemSoft Classification covers the requirements for all UK, EU and International Transport Regulations for all modes of transport. Copies of the Dangerous Goods Lists for ADR, IMDG Code, IATA Dangerous Goods Regulations, DOT (US) and TDG (Canada) are all available to this module. When the correct UN number, Packing group and Hazard ID number have been assigned, the software automatically provides information covering all Transport Legislation.
The Regulations Covered
This module contains up to date editions of the following regulations. These are maintained by ChemSoft and our customers systems are updated whenever these regulations change:
| | |
| --- | --- |
| | ADR - European Agreement Concerning the International Carriage of Dangerous Goods Regulations by Road |
| | IMDG Code – International Maritime Dangerous Goods Code |
| | IATA – International Air Transport Association – Dangerous Goods Regulations |
| | DOT – Department of Transportation (US) |
| | TDG - Transportation of Dangerous Goods (Canada) |
Key Features
This module contains a complete and up to date library of every UN number and all associated information. The UN List is fully searchable by UN number and Proper Shipping name and displays Packing Group, Hazard ID number, Classification Code, Special Provisions and associated notes to ensure you select the correct classification for your product.
If you need help choosing the correct UN number for a product the software uses a clever utility to query the Dangerous Goods List to quickly and accurately assign the UN number, Packing Group, Hazard ID number and Proper Shipping name to any product.